It's great to be culturally sensitive but should we still be culturally sensitive if that means our rights are removed because of mere religious sensitivities?
Well, the answer is yes apparently if you live in Australia because tourists will no longer be allowed to climb the ancient monolith Uluru (Ayers Rock).
The authorities give three reasons for the ban:
1) SAFETY - 35 people died in the 25 years to the year 2000.
2) ENVIRONMENTAL damage - the sandstone rock suffers erosion and human waste is washed down into waterholes by rain; and
3) CULTURE - traditional owners don't like people climbing over something they consider sacred.
Well, the first reason is not a reason. We are allowed to do dangerous things – the government doesn't ban cars or dangerous sports does it?
As for the second reason, that is a load of old piss as well. After all, most of the erosion comes from driving rains rather than piss and, hey, isn't the rock still fine after all these millions of years of being rained upon?
And the third reason? Well, I've got nothing against aborigines and they should be allowed to believe whatever they want, but if they think a rock is sacred then that should also mean that Megan Fox's two mounds should be banned as well because they are also worthy of similar respect!
http://www.inquisitr.com/28525/megan-fox-topless-in-jennifers-body-nsfw
/
clipped from
http://www.guardian.co.uk/world/2009/jul/08/uluru-climbing-ban-plan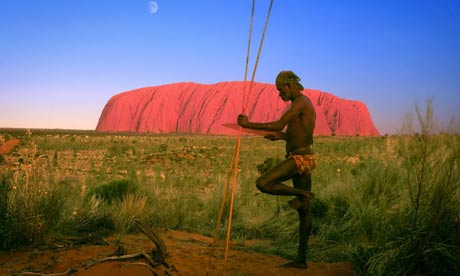 ---
Climbing on Uluru, the rock in the centre of Australia that attracts hordes of tourists, could be banned in future for cultural, environmental and safety reasons under a plan published today.
---
If the draft management plan for the Uluru-Kata Tjuta national park is approved, the path reaching to the top of the 1,135ft (346-metre) monolith, formerly known as Ayers Rock, could be closed in about 18 months.
---
When the Aborgines leased the land back to the Australian National Parks and Wildlife Service in 1985, they asked that people should not be allowed to climb Uluru. The park service decided to keep the climb open, advising visitors to respect the tribe's wishes but letting them decide for themselves.
Get Clipmarks
- The easiest way to email text, images and videos you find on the web.
Labels: news